I know I know, I am already falling behind on things I have to do, but I just could not help myself when I found this
awesome blog
. I am participating in a
handmade gift exchange
!!!
Oh my Oh my! I am super excited and already have tons of ideas in my little head.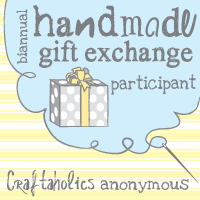 Apart from this, I am also participating in another scrap swap (I still owe you some pictures from my last swap, sorry about that). This is so addicting!!!I absolutely love giving gifts, but the rush I get when I get home and see a box waiting for me... it. is. inexplicable!
I go through each and every piece of fabric and all the other goodies my swap friend has so carefully and thoughtfully selected for me. Everything is so neatly packed and every item tells a story. I even get butterflies in my stomach. I am that crazy... lol!
I am also taking 2 crafts courses this summer. I will keep them a secret for now..... More on that later, pinky promise!
Hubby and I are hosting a dinner party this eve. Off to the kitchen I go!!! Do you have anything fun going on this weekend?
Love always!